SEC. MIKE JOHANNS: BEEF FOR ALL!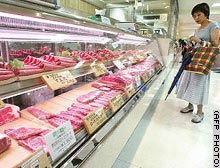 Thank you, Larry. And good morning, everyone, back in the states. I am very pleased to be joined tonight by our U.S. trade representative, Rob Portman. And we are very pleased to announce that the Japanese market is now open to U.S. beef.

Resuming beef trade with Japan is great news for American producers, and I would also suggest it's great news for Japanese consumers. It's an important step toward normalized trade based on scientifically sound, internally recognized standards.

Reopening the Japanese market to U.S. beef has been a top priority since becoming Secretary, and I want to thank the many people and organizations that were involved in the process.